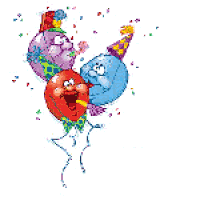 SAVE THE DATE!
DUE TO YOUR MANY, VERY POSITIVE RESPONSES TO THE INTEREST SURVEY, WE ARE MOVING FORWARD WITH THE
70TH BIRTHDAY BASH
OCTOBER 6th & 7th, 2017
IT'S YOUR BIRTHDAY PARTY, SO MARK THE DATE, MAKE YOUR TRAVEL PLANS, BOOK THAT ROOM, AND SAVE ROOM FOR CAKE!
YOUR BIRTHDAY PARTY COMMITTEE IS VERY BUSY MAKING PLANS AND FINALIZING THE DETAILS BASED UPON YOUR SURVEY RESPONSES.
THE EVENT(S) AND TIME(S) WILL BE SHARED SOON. ALSO, WE WILL BE SENDING OUT A RESERVATION/SIGN UP SO THAT YOU CAN BE COUNTED.
QUESTIONS? SURE, THERE ARE PLENTY AND WE WILL ANSWER MOST WITH THE FORMAL ANNOUNCEMENT AND REGISTRATION – STAY TUNED!
DON'T MISS OUT ON THIS OPPORTUNITY TO SEE THE TRIBE AGAIN – IT'S A LONG WAY TO THE NEXT REUNION.
YOUR 70TH. BIRTHDAY BASH COMMITTEE
NOT YET A MEMBER?
1.) Click the Classmate Profiles block above, then on your name.......CLASSMATE: LOG IN BOX APPEARS
2.) Click the Join Here link at the bottom in the gray box and you're in ... ENJOY!!!!!
Our Site is Free to Join and Run by Classmates.
129,602 Home Page Visits
Since October 15, 2009