In Memory
Joni Amdur (Cohen)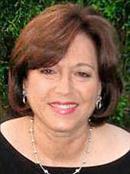 JONI AMDUR COHEN May 20, 1947 -- March 9, 2016
"Tonight the world lost a very brave and beautiful woman. Our Mom Joni Amdur Cohen passed away after courageously battling cancer for 4+ years. She was the most caring, selfless, thoughtful, giving woman. Joni was a truly amazing mother, grandmother, wife, sibling, and friend to those who were lucky enough to know her. We will forever feel grateful and blessed that she was our Mother, our forever warrior. We love you and miss you Mom!"
By: Daughters Julie and Elana
Joni was one of a kind and we who got to spend the 45th Reunion with her have to be reveling in the time spent 6 years ago. Joni left behind her wonderful husband Jesse and two loving daughters Julie (Matthew) Pittinsky and Elana (Larry) Kutz as well as 5 beautiful grandchildren Marin, Luke and Drew Pittinsky and Arielle and Emery Kutz. Her obit is not yet in the paper, but we wil forward as soon as it is published. The funeral is Monday, March 14.
Should you wish to extend your condolensces, their address are as follows:
Dr. Jesse Cohen
1133 W. Palmaritas Drive
Phoenix, AZ 85021

Julie and Dr. Matthew Pittinsky---Marin, Luke, and Drew
8848 N. Avenida del Sol
Paradise Valley, AZ 85253
Elana and Dr. Larry Kutz----Arielle and Emery
7324 E. Kalil Drive
Scottsdale, AZ 85260
So many adored Joni, so please fell free to make a comment and sharing this sadness with each other.
OBITUARY POSTED MARCH 13, 2016:
Joan Cohen Obituary: Joan Cohen's Obituary by the The Arizona Republic. 3/13/16, 4:28 PM
Cohen, Joan "Joni"
Cohen, Joan "Joni" (Amdur), age 68, of Phoenix, Arizona passed away March 9, 2016 surrounded by her loving family after a heroic 4-year battle with cancer. Joni was a devoted wife, cherished mother, grandmother, sister and friend. She was known and loved for her dedication to the Phoenix Jewish community. She served as Program Director of Beth El Congregation in Phoenix for 21 years, including 11 years as a member of the Board of Directors. Born in Pittsburgh, PA, Joni was a graduate of the University of Pittsburgh (elected Miss Pitt in 1969) and Mount Lebanon High School in Pittsburgh, PA. Joni was preceded in death by her parents Ted and Marian Amdur. She is survived by her beloved husband of 46 years, Dr. Jesse Cohen, children Julie Cohen Pittinsky (Matthew) and Elana Cohen Kutz (Larry), loving grandchildren Marin, Luke and Drew Pittinsky and Arielle and Emery Kutz, siblings Lois Zuckerman (David), Elliot Amdur, and many nieces, nephews, cousins and friends. A memorial service will be held Monday, March 14, 2016 at 10 AM at Beth El Congregation in Phoenix. Burial will follow at Mt. Sinai in Scottsdale. In lieu of flowers, donations may be made to the Valley of the Sun Jewish Community Center (c/o Joni Cohen Memorial Fund) or the American Cancer Society . Arrangements by Sinai Mortuary. Funeral Home Sinai Mortuary of AZ, 4538 N. 16th Street Phoenix, AZ 85016 602-248-0030. Published in The Arizona Republic on Mar. 13, 2016.