In Memory
Carol Koynok (Buono)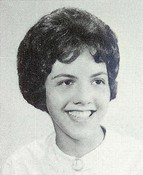 We received the following message from Carol's ex-husband, Tom Buono. We have not located the obituary and have no additional information.
"Carol was my ex-wife. She passed away yesterday 9-5-11."
Bob Niebaum located the obituary for the site:
Ms. Buono will be sadly missed by her devoted fiance Alfred L. Pleasants, III; daughter, Stephanie Cook (Julian); son, Curtis Buono; granddaughter, Rhiannon Cook; and sister, Barbara Grossman. Ms. Buono retired from the McGuire VA Medical Center after 20 years of service as a registered dietitian. She enjoyed visiting casinos and spending time with her family. A memorial service to celebrate her life will be held on Monday, September 12, at 12:30 p.m. at the McGuire VA Medical Center chapel.