In Memory
James D Russell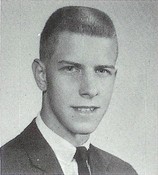 REMEMBER ROBBY STAMPS & JIM RUSSELL: gunshot casualties at Kent State -- May 4, 1970
Submitted by Alan Canfora on Wed, 2007-01-24 05:17.
ROBBY STAMPS MEMORIAL TRIBUTE:
Join us at Kent State University, Saturday, October 4, 3:30pm, in the Governance Chamber on the 2nd floor of the Student Center.
Robby Stamps died in June of 2008 after suffering the deadly effects of Lyme Disease. One of the nine KSU students shot and wounded by bullets at KSU on May 4, 1970, Robby was a longstanding outspoken advocate seeking truth and justice at Kent State.
Robby is the second of our 1970 injured casualties to pass away. Jim Russell died of a heart attack in Oregon in June of 2007. Russell's family will join us again on Saturday in Kent.
Others wounded by bullets on May 4, 1970, will also join us in Kent on Saturday to memorialize our fallen brother, including: Dean Kahler, John Cleary. Joe Lewis, Tom Grace, Douglas Wrentmore and Alan Canfora. Only Scott Mackenzie cannot join us due to distant commitments elsewhere.