In Memory
Thomas (Tim) W Wollett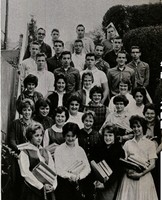 Bruce Abernathy, Class of '64, was a classmate of Tim (aka Thomas) Wollet and had lost track of him after Tim was set back a grade and hence graduated in '65. Bruce has requested we do the honor of representing him in his own class's In Memory now that he has located information on him.
The following links will take you to the Obituary which I can confirm is Tim as the Wollet's grew up about 5 or 6 houses down the street from us on Iroquois in our grade school years and Tim got brother Dennis in plenty of trouble or maybe it was the other way around but his sisters were Paula and Mimi. I have posted from the Guestbook a beautiful eulogy written by Albert Feher which is quite ta ribute that Tim would have been so honored to receive. I am keeping it here in his memory.
In the above photo Tim is in Row 5 # 1 Person...Wish I could circle it but site does not let me.
http://www.legacy.com/obituaries/postgazette/obituary.aspx?pid=151329915
http://www.legacy.com/guestbooks/postgazette/guestbook.aspx?n=thomas-wollett&pid=151329915#sthash.f3WExe8L.dpbs
http://findmyaccident.com/ohio/2011/06/06/thomas-wollett-dies-when-semi-hits-minivan-on-u-s-6/