In Memory
Judy A Gallagher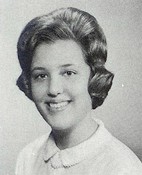 Margaret (Steffens) Schroeder has sent you this news story:
Obituaries - Pittssburgh Post Gazette
GALLAGHER, JUDITH ANN

Judith Ann Gallagher, 61, of Long Cove on Hilton Head Island, SC, died Wednesday February 25, at home after a long illness. Judy was born April 24, 1947, in Pittsburgh, PA, the beloved daughter of Robert H. and Margaret S. Gallagher, who survive. Judy was a graduate of Allegheny College in Meadville, PA, where she majored in music. She was a member of Alpha Xi Delta sorority, serving as president in her senior year. After spending time as a pre-school teacher and an administrative assistant, Judy worked in banking for 20 years and retired in 2005 from Bank of America. She then devoted her time to many musical, theater productions and artistic pursuits which had become such an important part of her life. She organized the "Island Singers," a group of 20 women who performed often and were very popular. Judy was instrumental in the formation of the "Main Street Youth Theater," and served as treasurer and member of the board of directors until her illness prevented her from continuing. A long-time member of First Presbyterian Church of Hilton Head Island, Judy was a member of the Chancel Choir, the New Voices, and the hand bell ringers. She also produced, directed and often sang the lead in musical plays held at the church. Services will be held on Wednesday March 4, at 11:00 AM, at First Presbyterian Church, with a reception to follow. In lieu of flowers, contributions may be made to First Presbyterian Church, 540 Wm. Hilton Pkwy., Hilton Head Island, SC 29926, or Hospice Care of the Lowcountry, Post Office Box 3827, Bluffton, SC 29910, www.hospicecarelc.org
The ISLAND FUNERAL HOME AND CREMATORY is in charge of arrangements.