In Memory
Robert M Offutt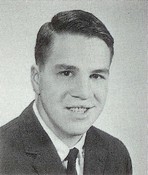 Jane Offutt (Class of '66) was kind to submit the following information regarding her brother:
Bob died in 2003 of complications from diabetes. His home was Tampa. Fl where he raised a son and, at the time of his death, he enjoyed the company of his daughter-in-law and two her two little girls. Regretably, he did not get to see his own grandchildren, Ashton Offutt and Nelle Offutt.
During the years that Bob was at the high school, the athletic coaches adopted Bob as one of their own. They would put their arms over his shoulder and include him in the wrestling team and other sports activities. In return, he had a spirit and a heart that endeared him to them and sports during his years there. .
• Search for notices published since early 2000.
• To access notices published within the past 30 days,
click here
.
| | |
| --- | --- |
| Displaying records 1-1 of 1 | |

OFFUTT
ROBERT MAGRUDER "BOB", SR
Age 57, of Tampa, FL, formerly of Pittsburgh, passed away in the company of his family on May 16, 2003; he was the father to Robert M. Offutt, Jr and daughter-in-law Lynnette; grandfather to his beloved girls, Sami Jo, 7, and Taylor Lyn, 4; he is also survived by three brothers, James H. Offutt III of Fairfax, VA, William L. Offutt of Waterford, VA and Thomas Offutt of San Ramon, CA; two sisters also survive him, Dr. Jane Offutt of Pgh, PA and Marianne Offutt Harris of Augusta, GA; 10 nieces and nephews also survive. A Memorial Service was held at 2:00 pm on Sunday, May 18, 2003 at Lake Magdalene United Methodist Church. In lieu of flowers, donations may be made to The American Diabetes Assoc., 5011-L West Hilsborough Ave., Tampa, FL 33634